Scan Falafel Bar's menu, and you'll see lots of familiar dishes from the Levant, or eastern Mediterranean, including Greek and Arab favorites found in many local restaurants.
Take a chance and look closer, and you may find that Falafel Bar goes deeper. Two dishes that many diners take for granted demonstrate how different Israeli restaurateur Oded Rauvenpoor's work really is.
The first is hummus. In my lifetime, chickpeas ground with tahini, sesame paste, lemon and garlic has gone from exotic to ubiquitous in the United States. Every supermarket has dozens of flavors, and it even shows up on the odd pub menu.
What if you found out hummus could be better? Lighter, even silky, such that it has flow rather than spackle-ish qualities, distinctly nutty from tahini? Freshly ground hummus is like that. As it ages overnight, the starch particles swell and you get fudgy hummus.
Come try the original, swirled around the plate's rim, accented with olive oil, ground chile and chickpeas in standard mode ($8). Others come accented with mushrooms and onions cooked with turmeric ($11), or a saute of lamb, tomato and chile ($13). All are accompanied by warm pita bread.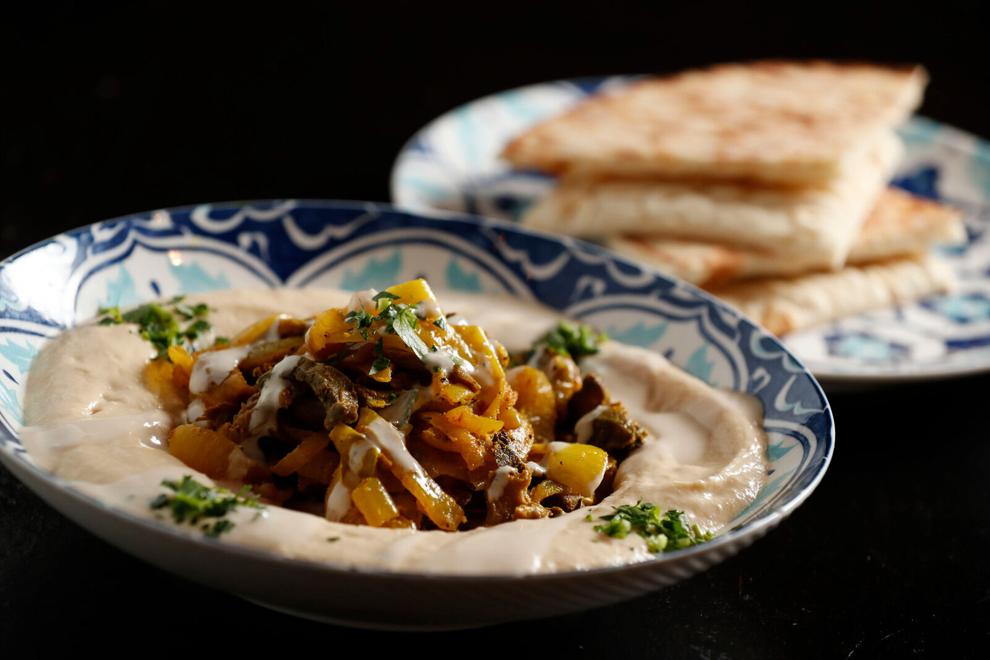 Chicken shawarma, seasoned grilled chicken, is nearly as common, from Lebanese, Iraqi and Greek places, especially.
Unfortunately, most of the varieties I've tried were made with chicken breast. It dries out quickly, filling wraps with bites of cotton ball that no sauce can bring back to life.
Rauvenpoor, who has been working the Greek-Israeli-Lebanese Levantine triangle since 2003 at the Mr. Greek on Transit Road, has more sense than that. He uses chicken thighs, which hold marinated flavor and moisture better when they're grilled and sliced for sandwiches ($12) or the chicken shawarma platter ($17).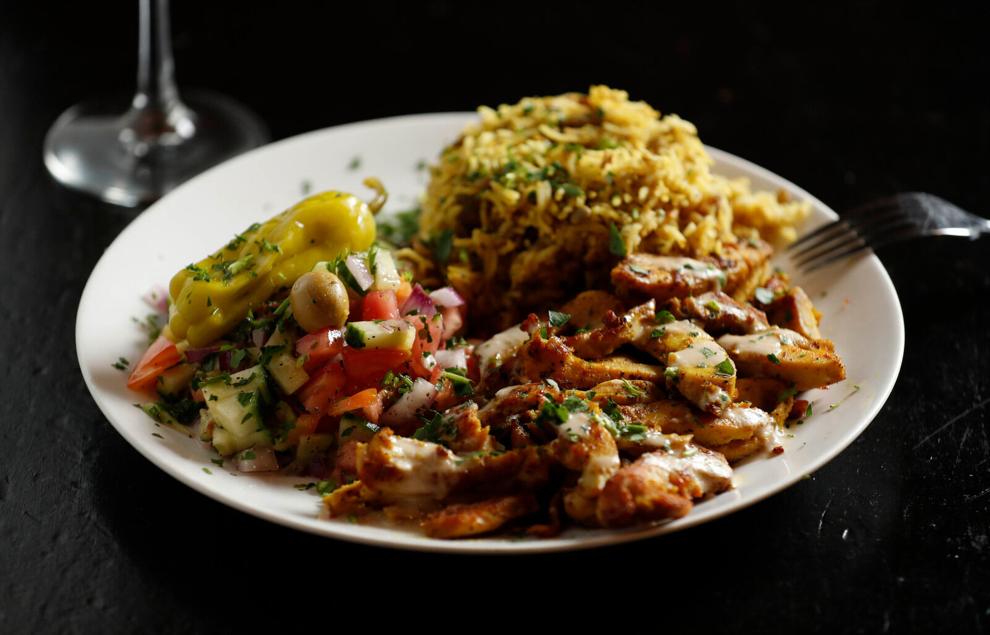 The latter is one of my favorite plates in Buffalo, for the interplay between loads of moist, well-seasoned meat tinged with breath of the grill, vivacious crunchy, juicy salad, and the comfort of fries or mujadarra (rice pilaf with lentils and caramelized onions).
Close behind is the chicken schnitzel ($17). It is sesame-speckled, anchoring a plate with choice of rice or potatoes, and chopped Israeli salad. (Diced fresh cucumber, tomato and onion, in lemon and olive oil, and parsley. No lettuce.)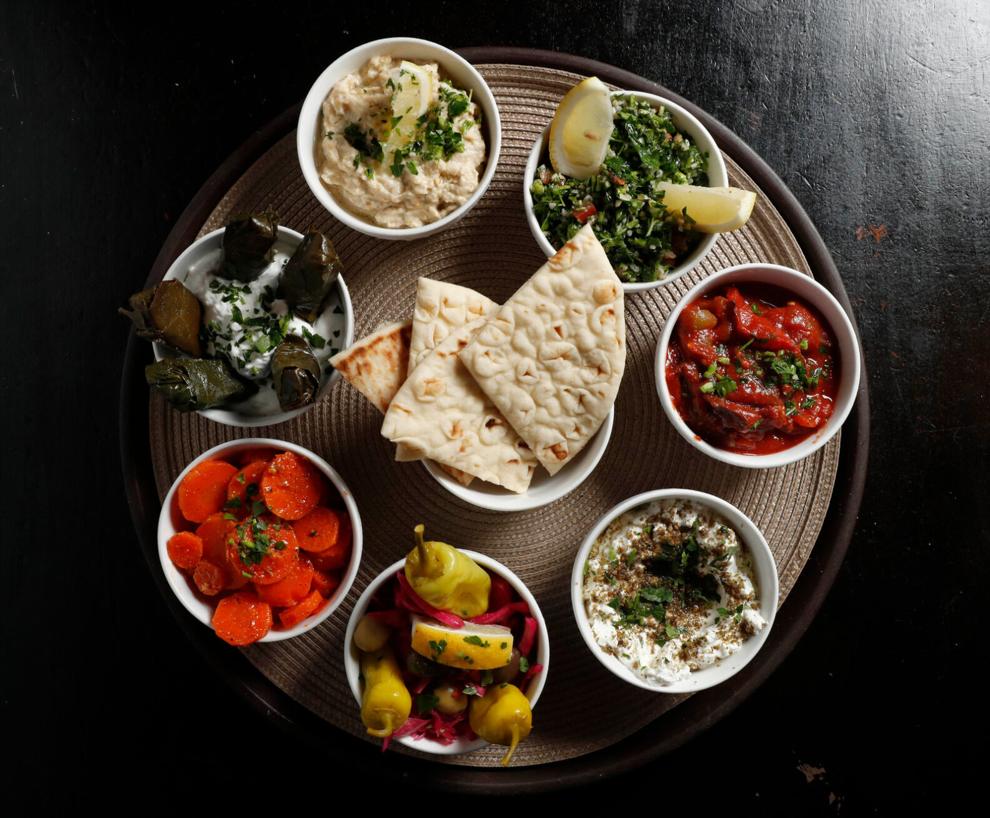 You could also heft that schnitzel as a submarine sandwich ($12), topped with more of that salad and mustard-mayonnaise. This schnitzel has Austrian roots, in Vienna, before its cooks emigrated to Israel.
Lamb folk might consider the herb-laced lamb burger ($14) topped with lettuce, tomato and tahini.
Green wings (6 for $13), in pungent fresh Yemenite hot sauce The chiles are stemmed, then ground up – seeds and all – with garlic, cilantro, olive oil, lemon juice and a dash of cumin. If you ask for green sauce, you can get some on the side with falafel or other dishes.
Vegans can feast here, and not on meat substitutes. Vegetable feasts with their roots in ancient cuisines include falafel, first and foremost. Here they're green inside from the herbs ground with the chickpeas.
Consider brik ($10), vegan Moroccan-inspired pastry filled with potatoes, served with tomato avocado salsa.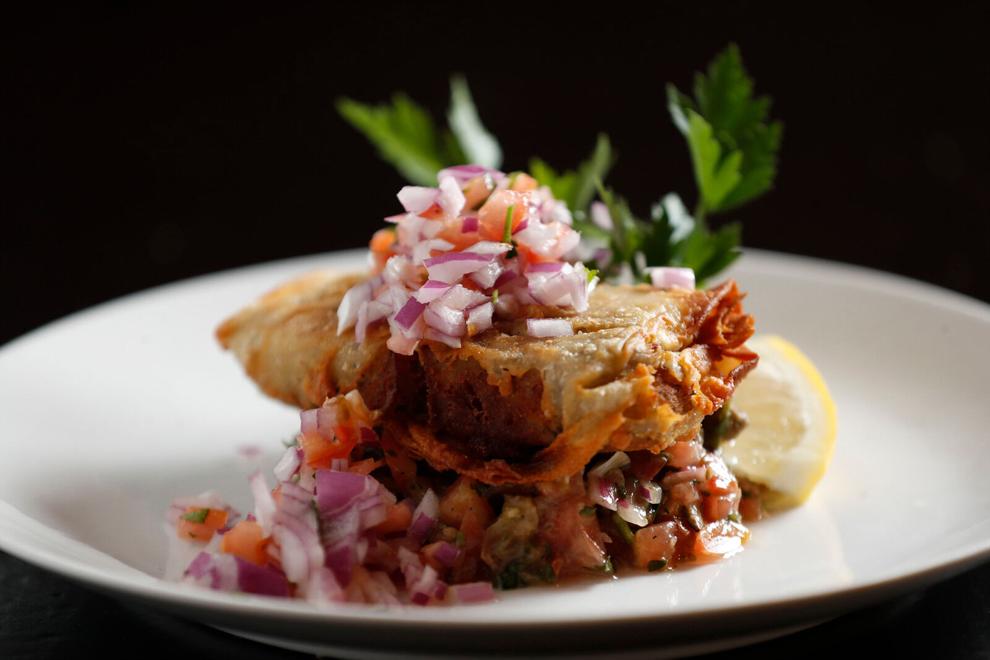 Eggplant fanciers should not pass up "burning eggplant" ($10), wherein a medium-sized aubergine is roasted over a stove burner, split open and dressed with toasted pine nuts, shaved garlic, fresh lemon juice, and uncut tahini, ground sesame seeds.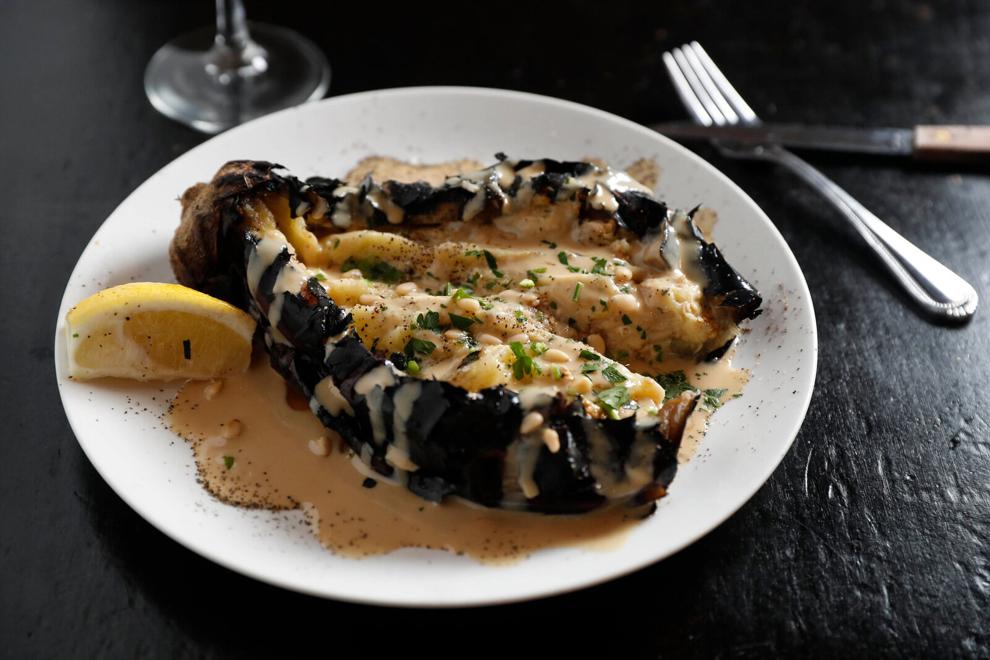 Labneh ($9.50), seasoned, whipped drained yogurt, is fine with pita, but when I'm feeling like splashing out, I add fried eggplant and roasted red peppers. Moroccan carrots ($8) are coins of the sweet root fired with chile flake and fennel seeds.
What more shall I say? Time also faileth to tell the stories of Turkish eggplant salad and rice-stuffed grape leaves, of tzatziki and babaganoush, of fried cauliflower and tabouli. For $28, you can get a sampler platter so you can tell the stories yourself.
Rauvenpoor hung in there during the pandemic, going to takeout only, and bringing his Falafel Bar food truck to local events. Lately, he's returned to dine-in service, and even added brunch. Yes, mimosas and sangria are part of the deal.
Shakshuka ($12) is a simmering tomato-chile-garlic sauce in which eggs are poached for breakfast, served with challah bread. Meat-eaters might treat themselves to a version with housemade lamb sausage simmered along with the eggs ($14).
Souvlaki breakfast ($14) with feta omelet and home fries brings back the old days of the Mr. Greek and Falafel Bar's inaugural run at the storied shoebox of 1009 Elmwood Ave., which will always be "the old Pano's" to eaters of my generation.
Parfait halvah ($5) is lovely dessert, if you enjoy sesame, crunchy bites and ice cream.
At Falafel Bar, Oded Rauvenpoor is serving dish after dish that punches hunger right in the mouth, but never hits $20. If you love Arab Mediterranean food, go try Oded's.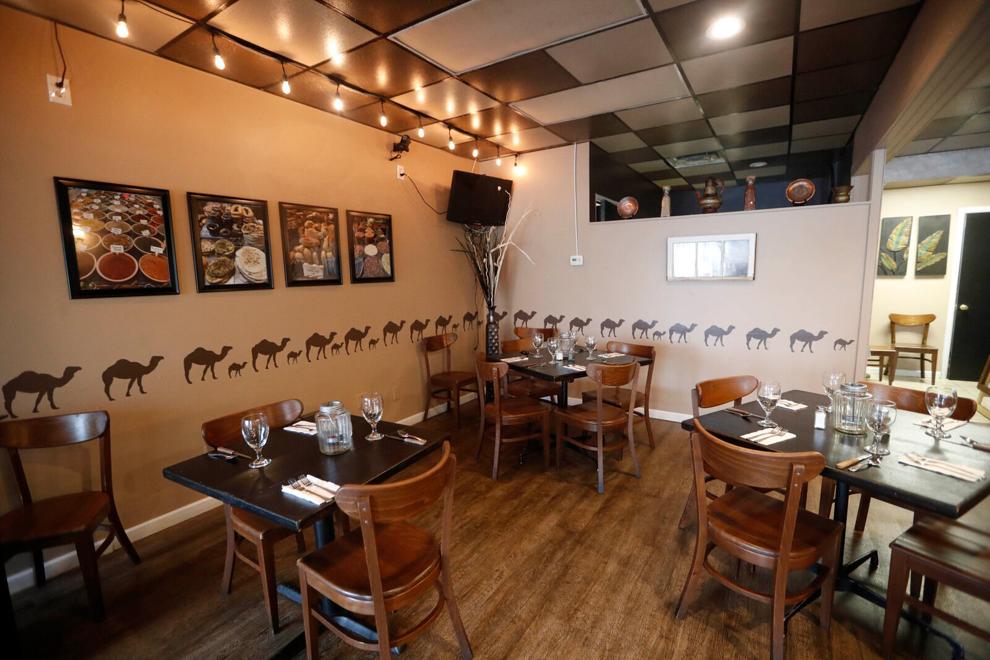 Hours: 11 a.m.-8 p.m. Thursday-Sunday, closed Monday.
Prices: appetizers $8-$28, sandwiches $11-$14, plates $11-$19
Atmosphere: peaceable enjoyment
Wheelchair accessible: yes
Gluten-free: many choices
Explore the top-notch Levantine classics at Falafel Bar on Sheridan Drive
Brik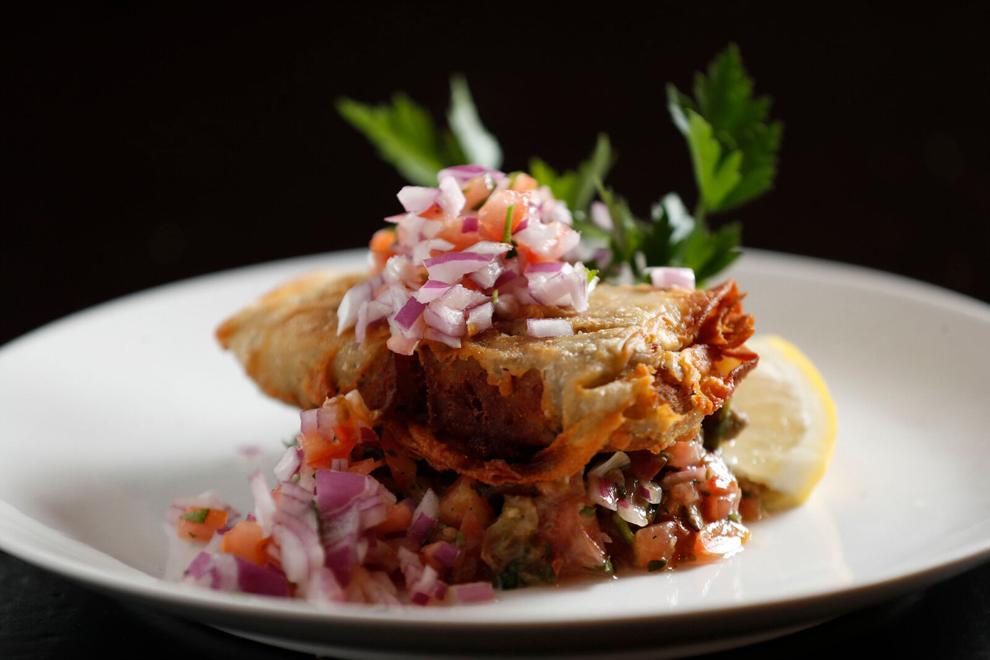 Burning Eggplant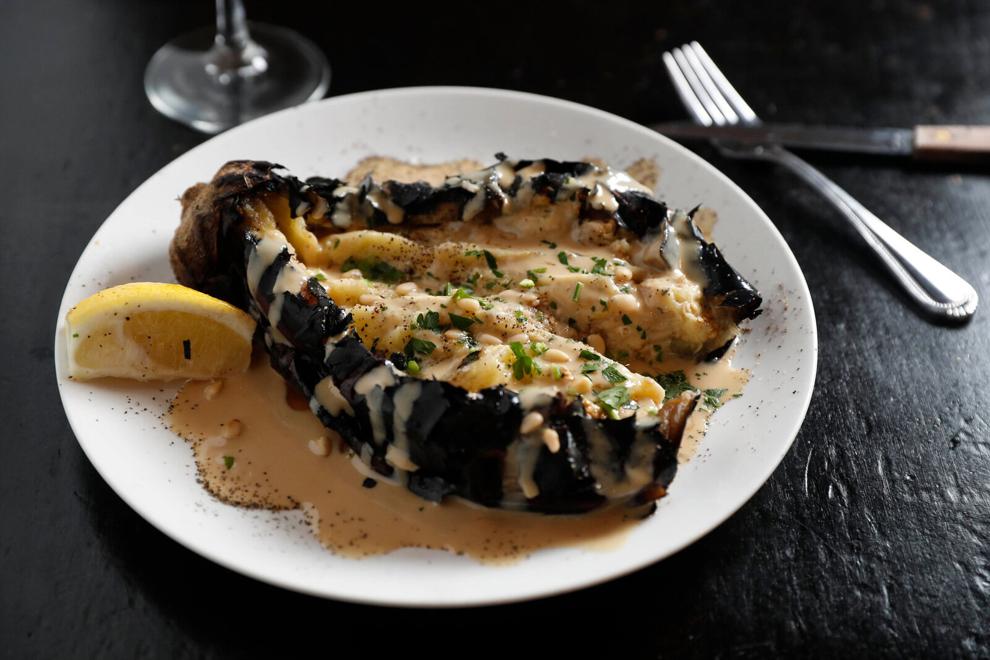 Falafel Bar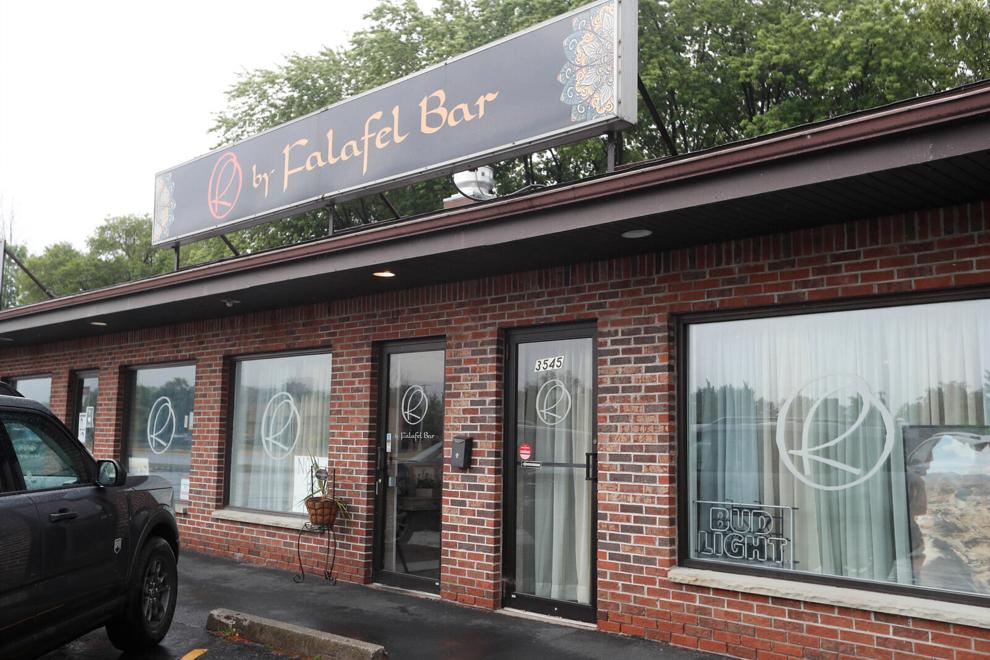 Maza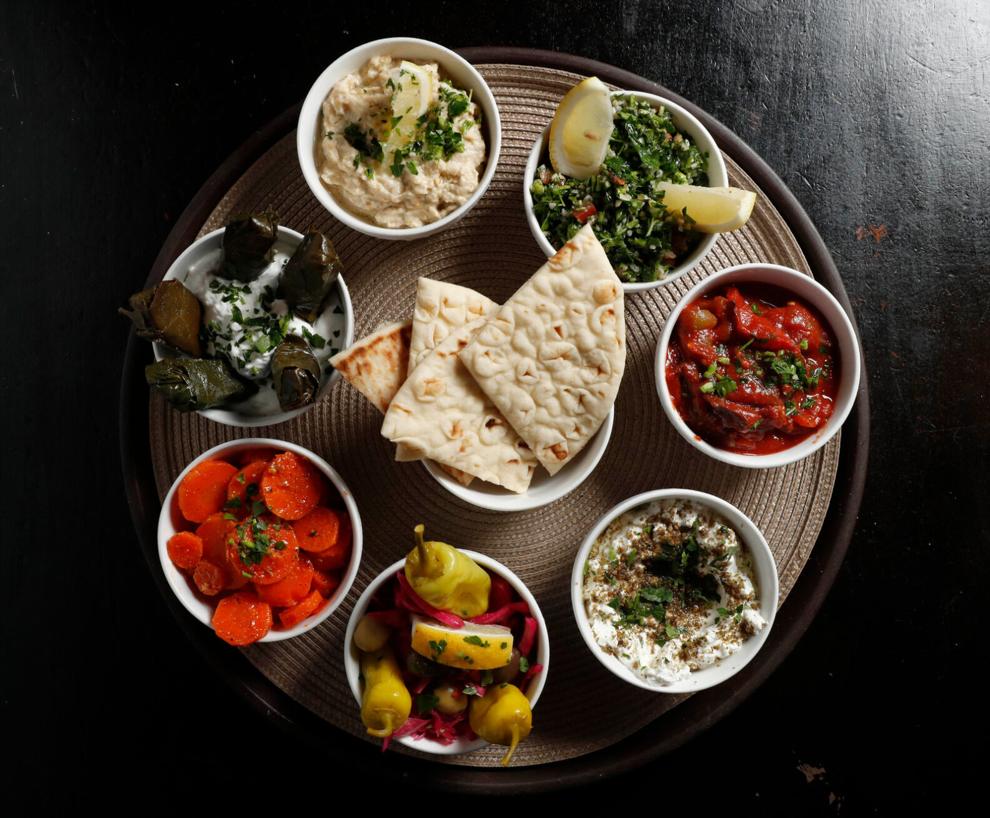 Mushroom Hummus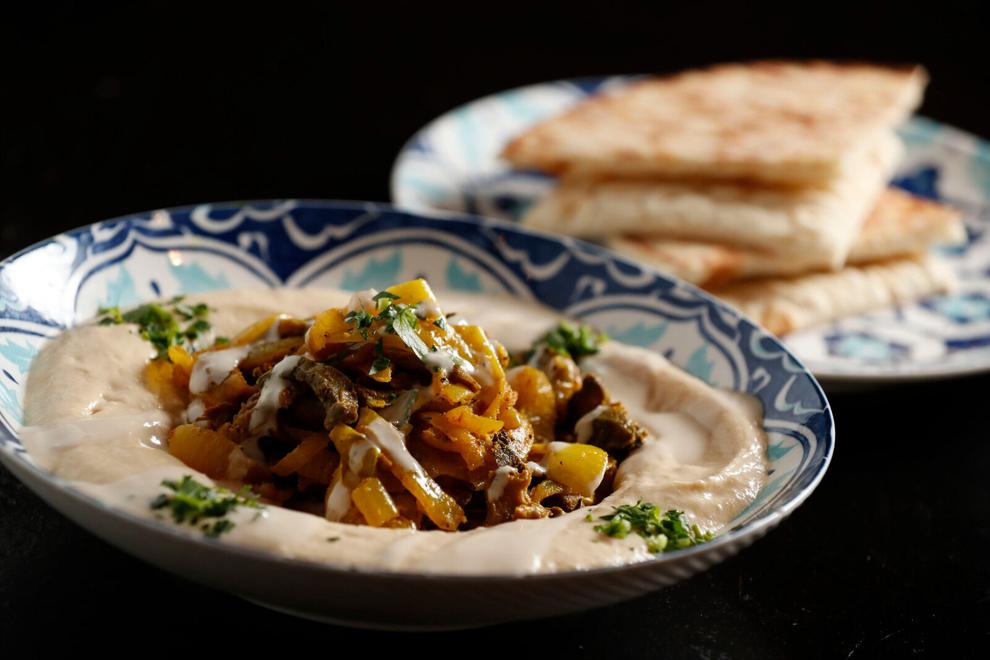 Dining room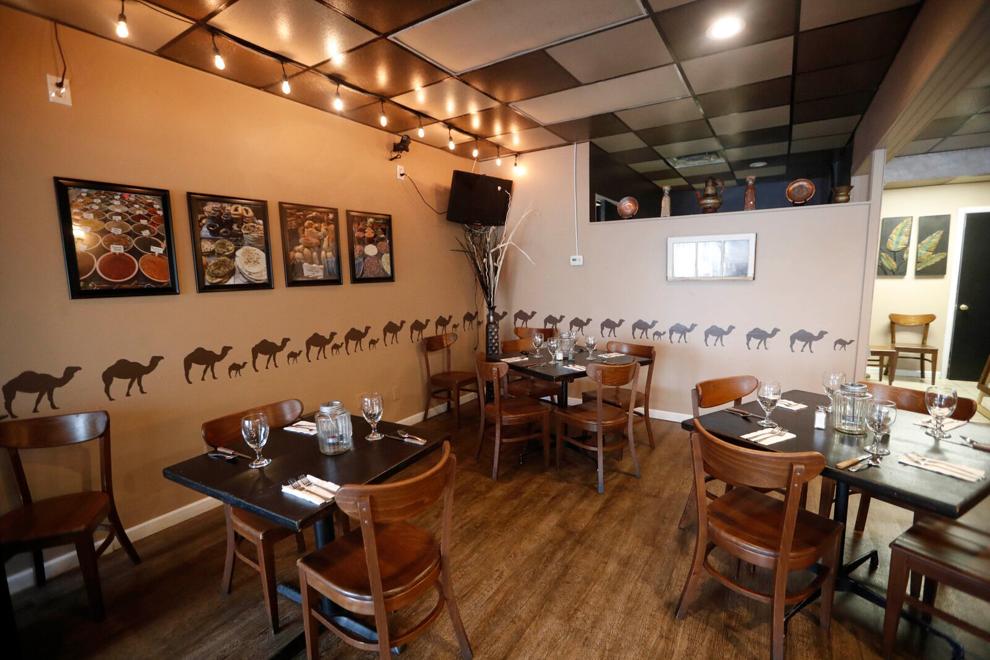 Schnitzel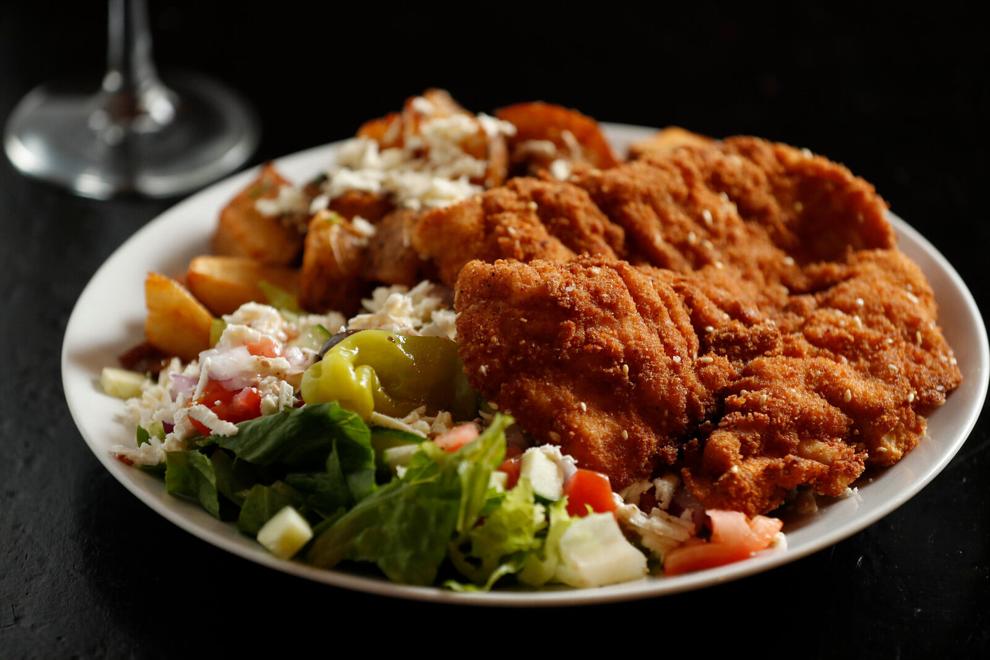 Dining room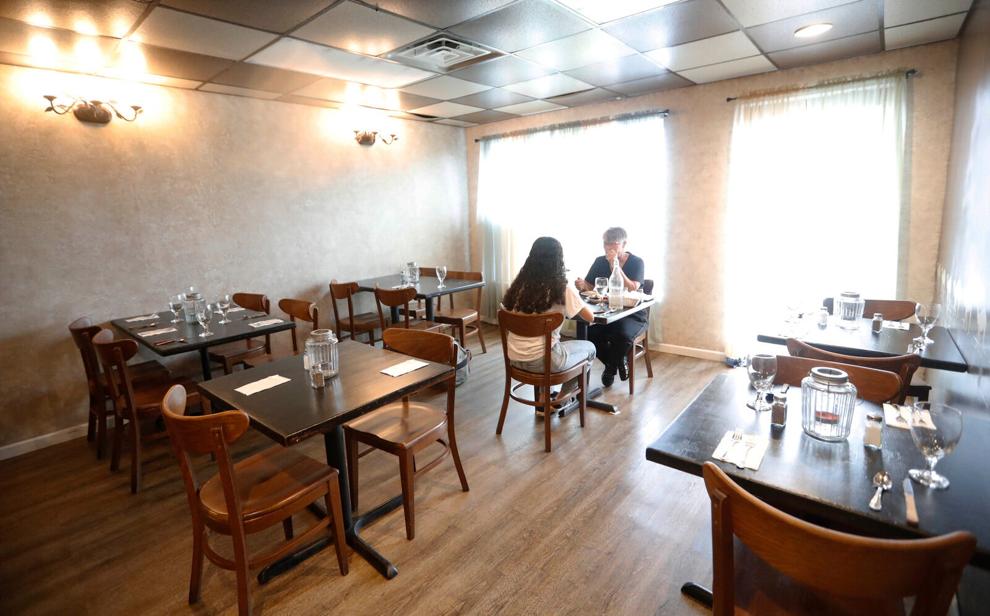 Shawarma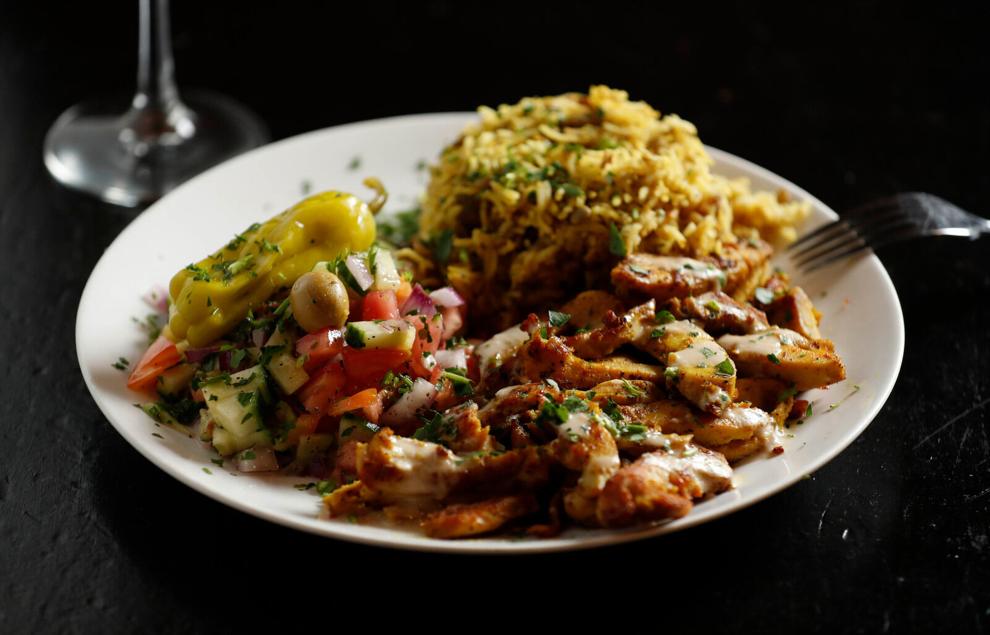 Peaceful message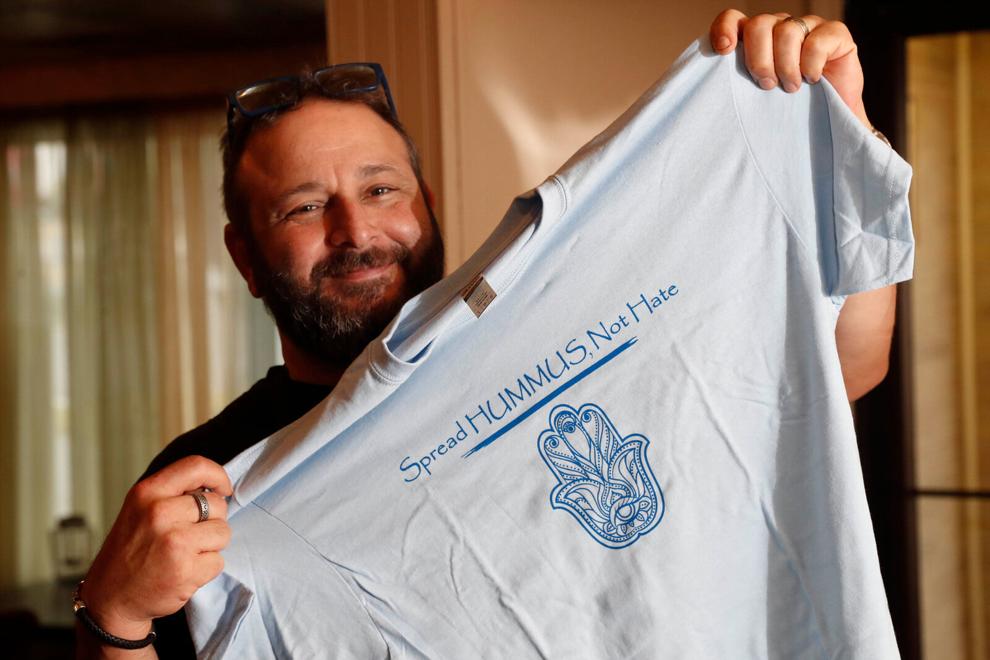 Sitting area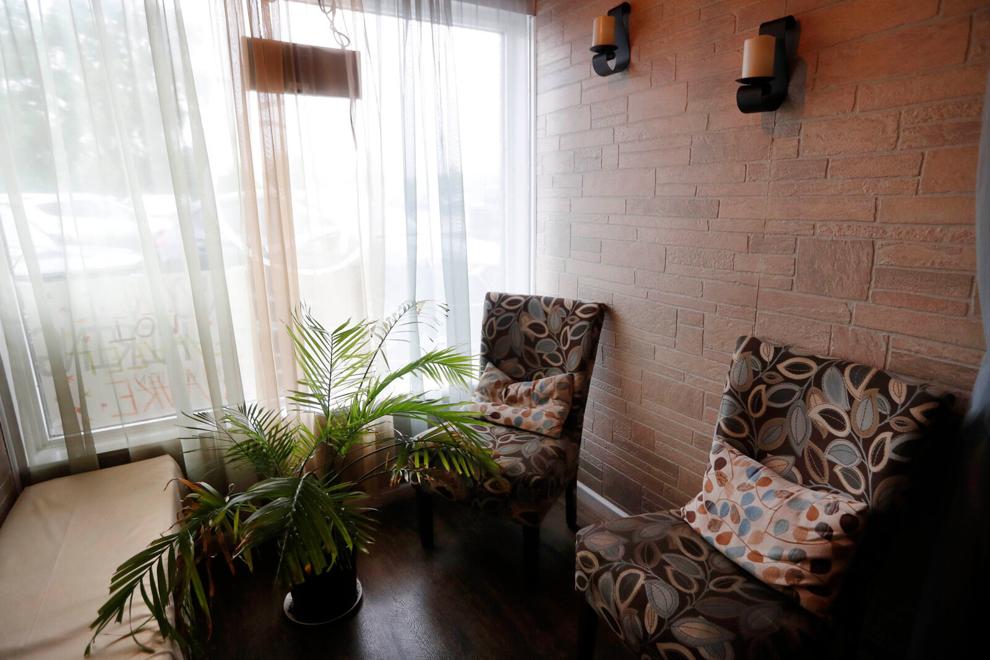 Send restaurant tips to [email protected] and follow @BuffaloFood on Instagram and Twitter.