Any cook, whether just a beginner or a confident professional, wants a collection of quick and easy dishes in their apron pocket — dishes they can count on when life is moving at full speed. Christopher Kimball's newest cookbook, "Milk Street: Tuesday Nights Mediterranean," delivers just that. It contains 125 one-page recipes that take from 25 to a max of 45 minutes to assemble and bring the healthy Mediterranean cuisines of northern Africa, southern Europe and western Asia to your kitchen. And a bonus: full-color pictures of each. Impossible? Take a test drive with the recipe below.
$35. Voracious, an imprint of Little, Brown and Co.
BAKED EGGS WITH POTATOES, SPINACH AND PARMESAN
Start to finish, 45 minutes
This frittata-like dish is based on a recipe from "At Elizabeth David's Table" by Elizabeth David. Don't allow the potatoes and spinach to cool completely before adding the eggs. Their heat helps jump-start the cooking process for slightly faster baking. To check for doneness, gently shake the pie plate. The center of the eggs should be firmly set, not at all jiggly. Serve the eggs warm or at room temperature, with a simple leafy salad to round out the meal.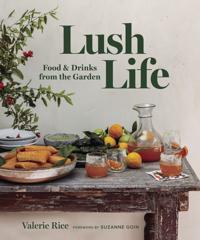 Servings 4 to 6
3 tablespoons extra-virgin olive oil, divided, plus more to serve
8 large eggs
¼ cup heavy cream
½ teaspoon grated nutmeg
3 ounces finely grated Parmesan cheese (1½ cups)
1 cup lightly packed fresh basil, chopped, divided
Kosher salt and ground black pepper
10 to 12 ounces Yukon Gold potatoes, unpeeled, cut into ½-inch cubes
3 medium garlic cloves, thinly sliced
5-ounce container baby spinach
½ teaspoon red pepper flakes
¼ cup pine nuts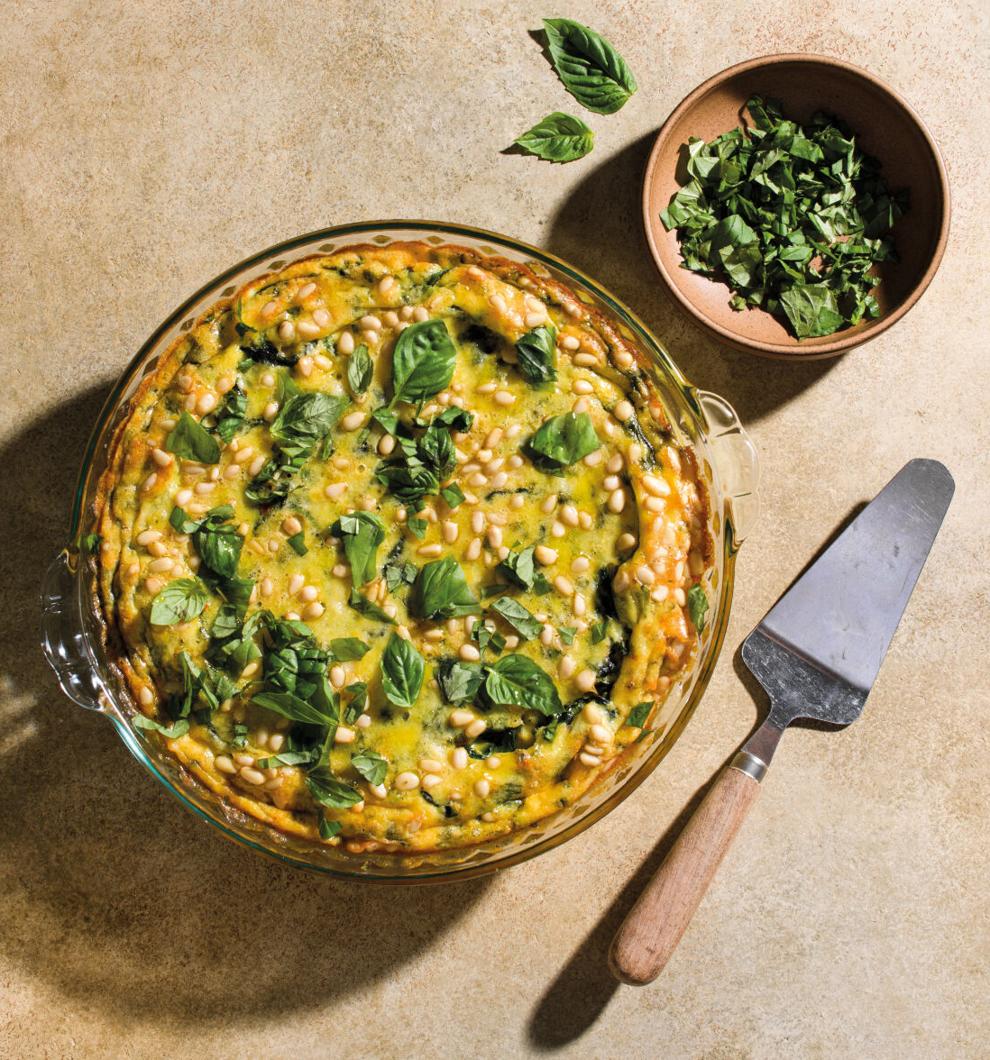 Heat the oven to 375°F with a rack in the middle position. Brush a 9-inch deep-dish pie plate with 1 tablespoon of oil.
In a large bowl, whisk together the eggs, cream, nutmeg, two-thirds of the Parmesan, two-thirds of the basil, ½ teaspoon salt and ¼ teaspoon black pepper; set aside.
In a 12-inch skillet, combine the potatoes, 2 cups water and 1 teaspoon salt. Bring to a boil over medium-high, then reduce to medium, cover and simmer until a skewer inserted into the potatoes meets no resistance, 10 to 12 minutes. Drain in a colander, then transfer to the prepared pie plate.
Wipe out the skillet and set it over medium. Add the remaining 2 tablespoons oil and the garlic, then cook, stirring occasionally, until the garlic begins to brown, about 1 minute. Add the spinach and pepper flakes. Cook, tossing and stirring with tongs, until the spinach is wilted and most of the liquid it has released evaporates, 2 to 3 minutes.
Scatter the spinach mixture over the potatoes in the pie plate, then slowly pour in the egg mixture. Sprinkle with the remaining Parmesan and the pine nuts. Bake until the sides have risen and the center of the eggs does not jiggle when the pie plate is gently shaken, 20 to 25 minutes. Drizzle with additional oil and sprinkle with the remaining basil.
Excerpted from "Milk Street: Tuesday Nights Mediterranean." Copyright © 2021 by CPK Media LLC. Photographs by Connie Miller. Used with permission of Voracious, an imprint of Little, Brown and Co., New York.